Make storage quick & easy
By storing precious items in the baby storage envelope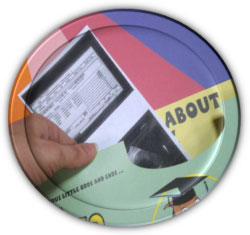 Make capturing moments memorable
By storing important records and items in the storage envelope.
Then record all treasured information so that it is not lost or forgotten on "the day I was born info page"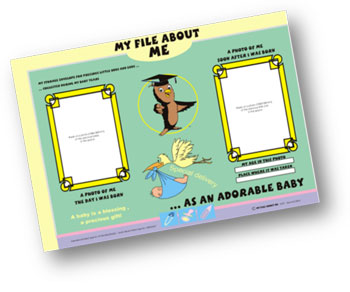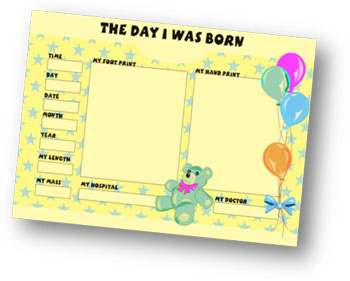 Display and show off special moments & items
Use the A3 Multi-purpose plastic sleeves, A3 mounting inserts and decorative paper.
Use these items to acccommodate all info from pre-birth including the toddler years.
Display a variety of mixed media as your heart desires or your time permits in the order that you wish.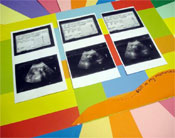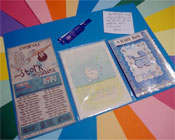 Display scans, hospital bracelet, newspaper clippings,
cards of congratulations, hair locks, small and larger professional photos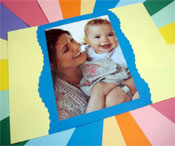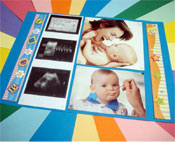 So many treasured moments to cherish all inONE safe place.
Create a gallery of your child's entire life.
Record the info that you have time for, without the worry of having blank spaces.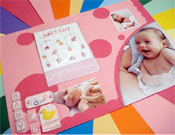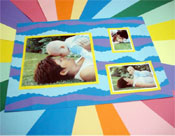 Who needs separate photo albums that add clutter
Use our jumbo photo sleeves that display SIXTEEN photos on one page.
Keep EVERYTHING all together in ONE safe place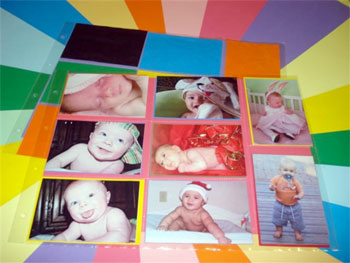 Create the "aah cute' factor with colourful prompts
Sixty stickers from pre-birth up until the third birthday are delightul guides for photos.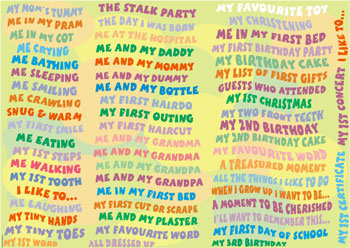 Keep all memories and valuables safe & self-contained
This extra strength, strudy, glossy box and file set will compact a lifetime of work in one condensed system.
Add a special touch:
Let us personalise your childs name onto the box and file.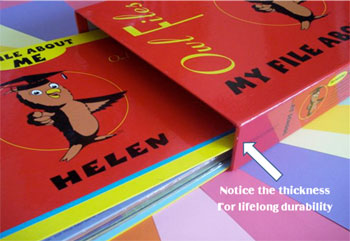 It is so easy to build onto your system
You already have your box and file, now simply add your nursery school section on with more accessories.